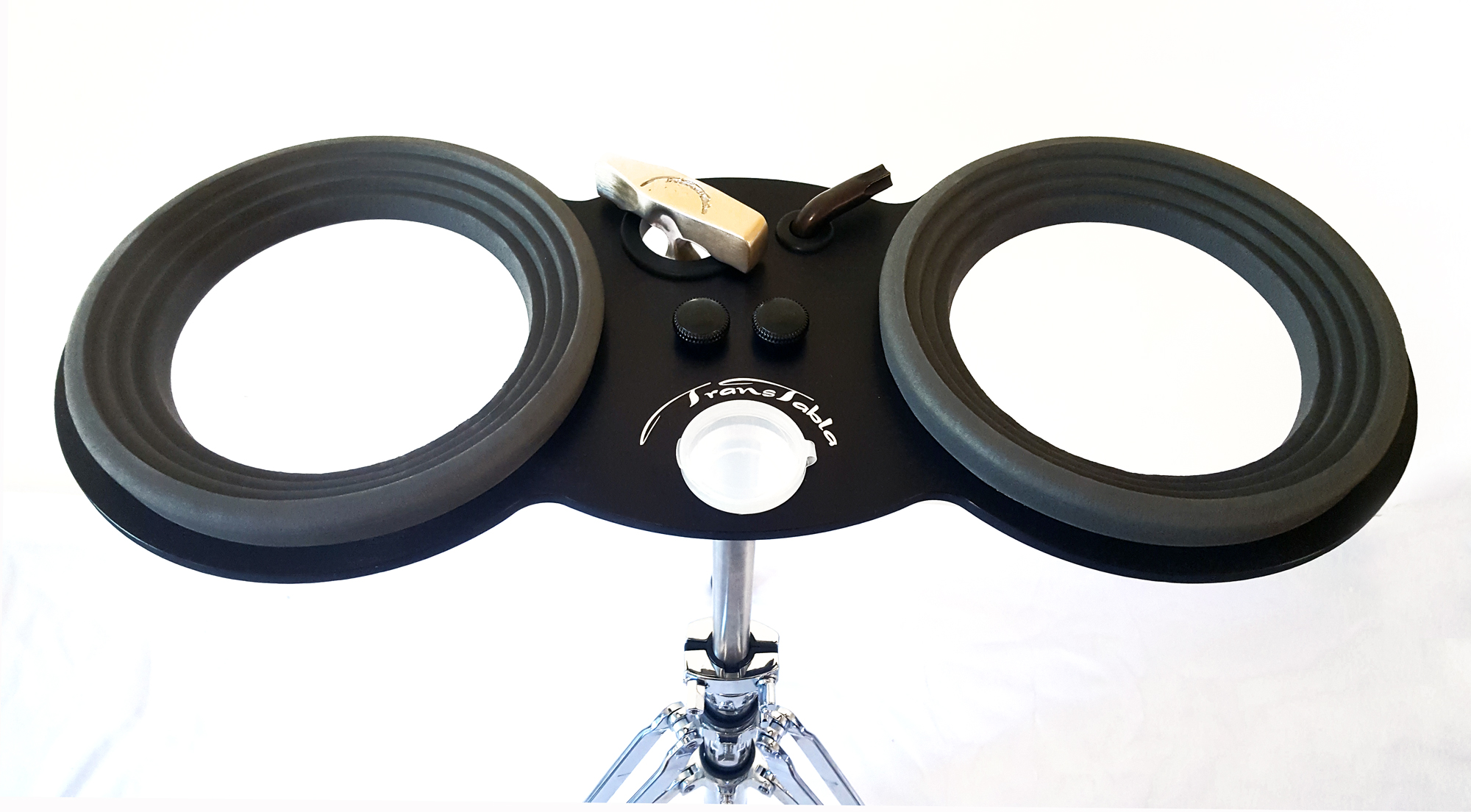 All new for 2018! After many requests, we've produced a universal Tabla mounting solution for players who wish to sit or stand to practice and perform.  Constructed of aircraft aluminum for a rigid feel and super light weight, they are also given an extremely durable black anodized coating that is the same hardness as ruby gemstones.  Featuring rubber protected cutouts for your Tablatool, tuning wrench, and a built in powder container. The plate unscrews from the main post and will easily fit within checked luggage, or even some existing Tabla cases. Backed by our site-wide guarantee, this Universal Tablamount is designed to last a lifetime.    We offer two of the most common post sizes, 1″ and 3/4″ diameter (sold separately) to adapt right into existing standard drum/snare stands.  If you need a tripod style base, please ask at time of order for what we have available!
Tablamount Universal Plate: $299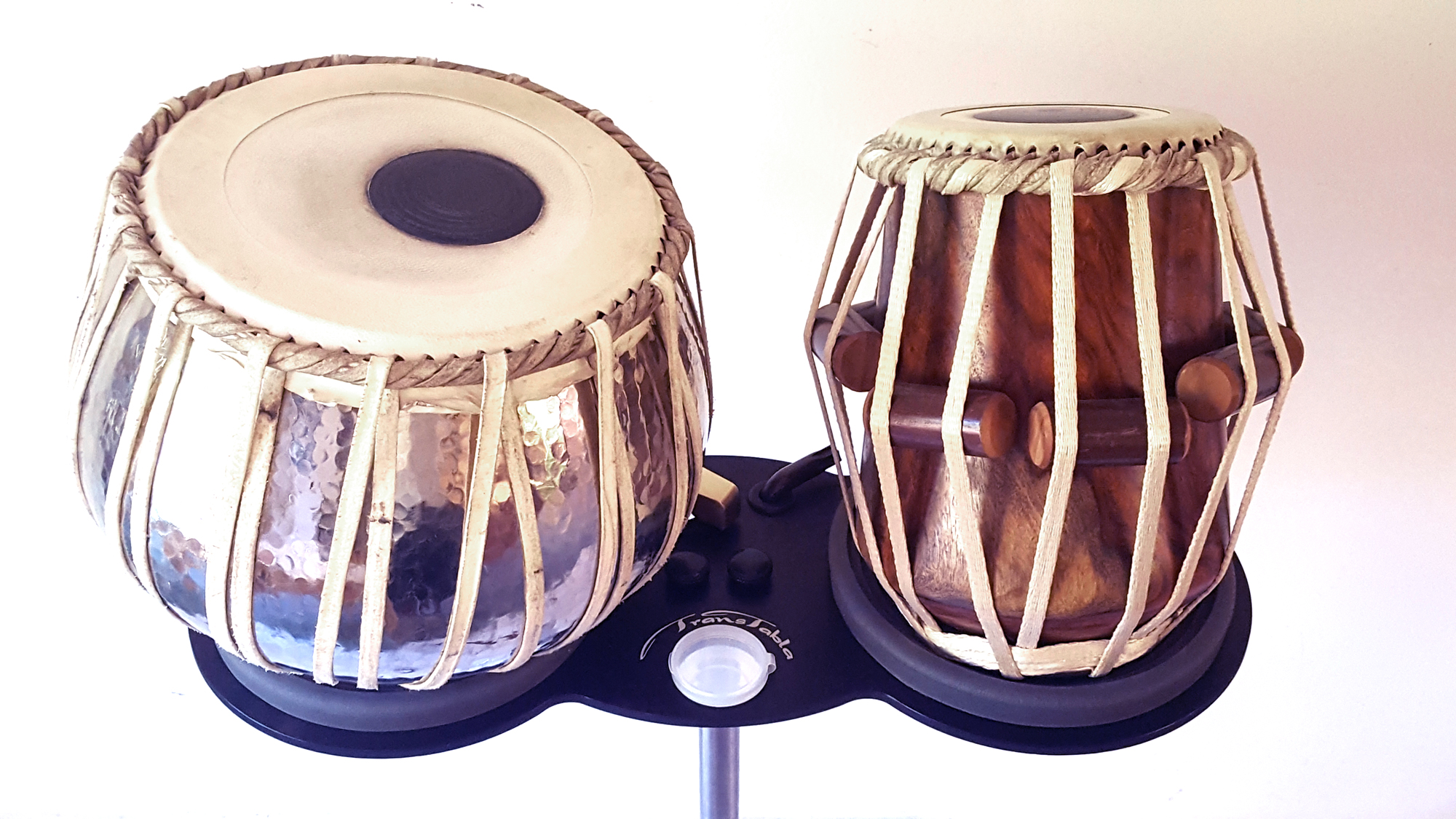 Features and Specifications:
Rubber protected cutout for Tabla Hammer or Tablatool
Rubber protected cutout for Transtabla tuning wrench
Powder container included and installed (can be removed)
Super high density foam rings for a secure hold on your Tabla
Overall dimensions: (Plate with rings only) 23″ x 9.5″ x 1.25″
Weight: 2lbs (Plate with rings only)
Material: Black Anodized Aircraft Aluminum
Logo: Lasermarked
1″ Diameter Chrome Mounting Tube: $49
3/4″ Diameter Stainless Steel Mounting Tube: $49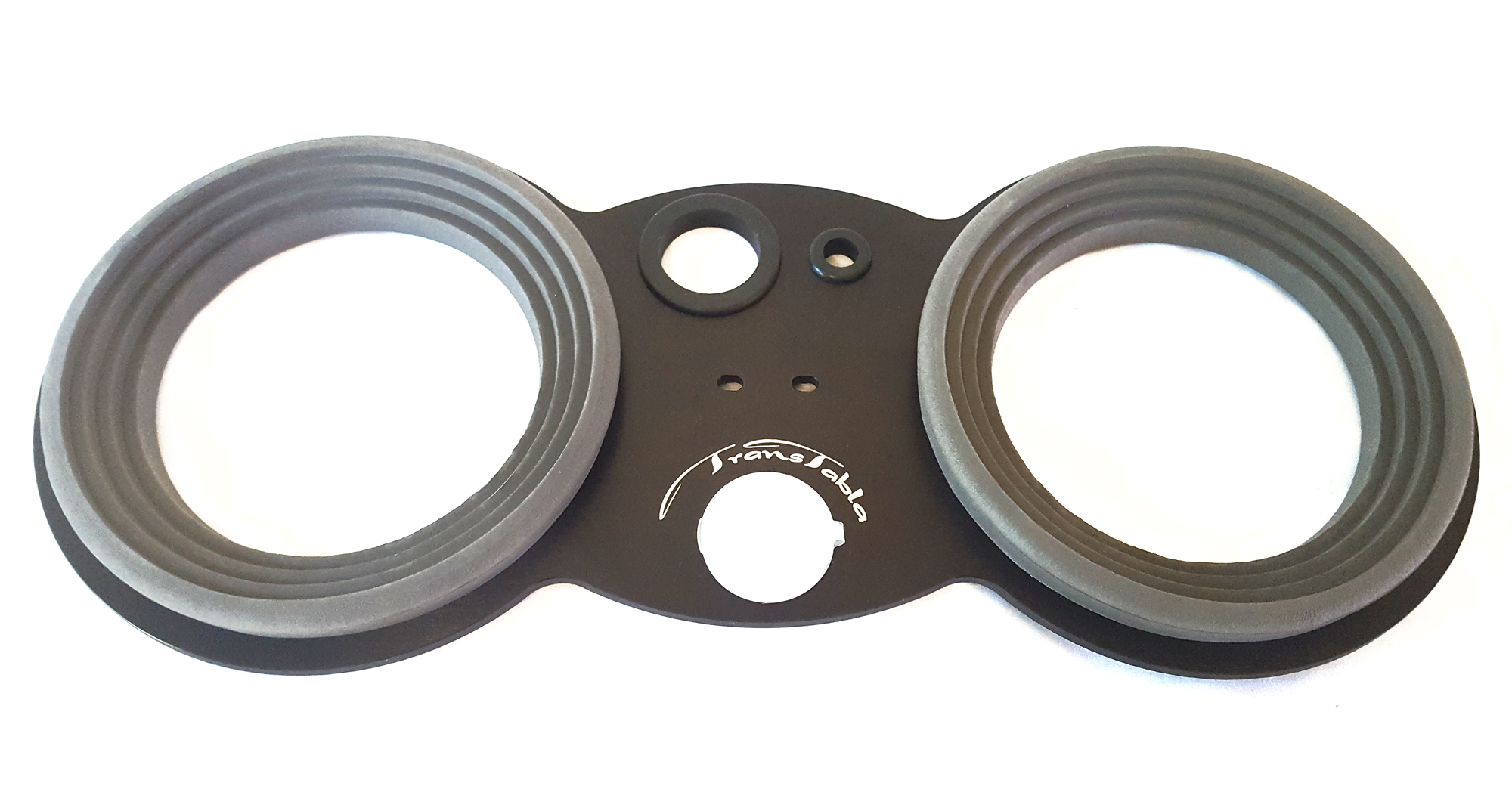 Lock in your TransTabla and converted Bayan securely with our pin mount style stand! Using twin ball-and-socket joints, this version gives you absolute freedom of playing angle and height from a seated or standing position. The entire assembly can be disassembled quickly for travel.  TransTablas are pin mount ready by design, and Bayans not purchased through us will require a pin mount modification of the base for $149 (see picture). The steel pin mount offers rigidity, yet allows for the drums to be freely rotated for tuning like you are used to with traditional rings. Both of our mounting options can use the same 1″ center column.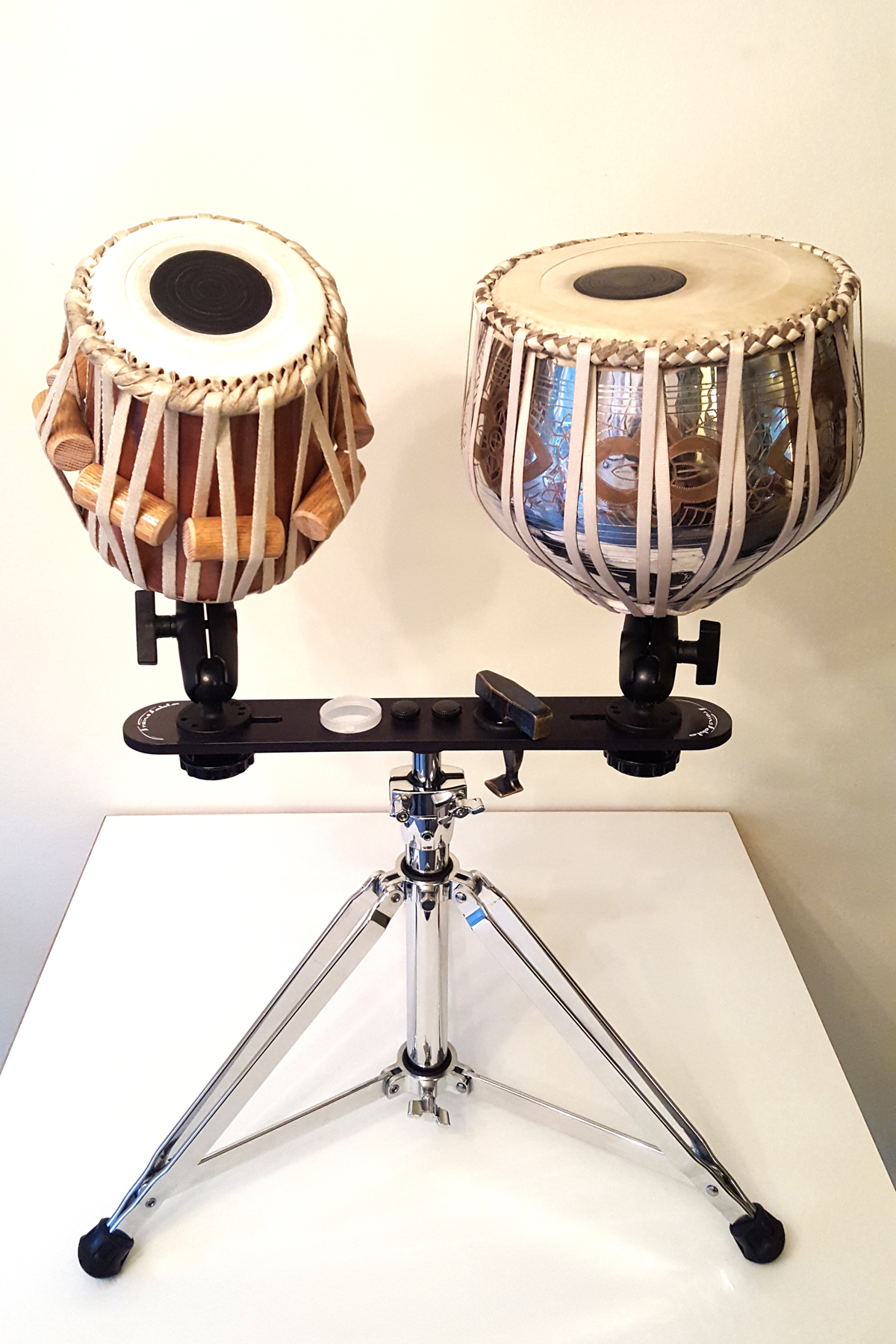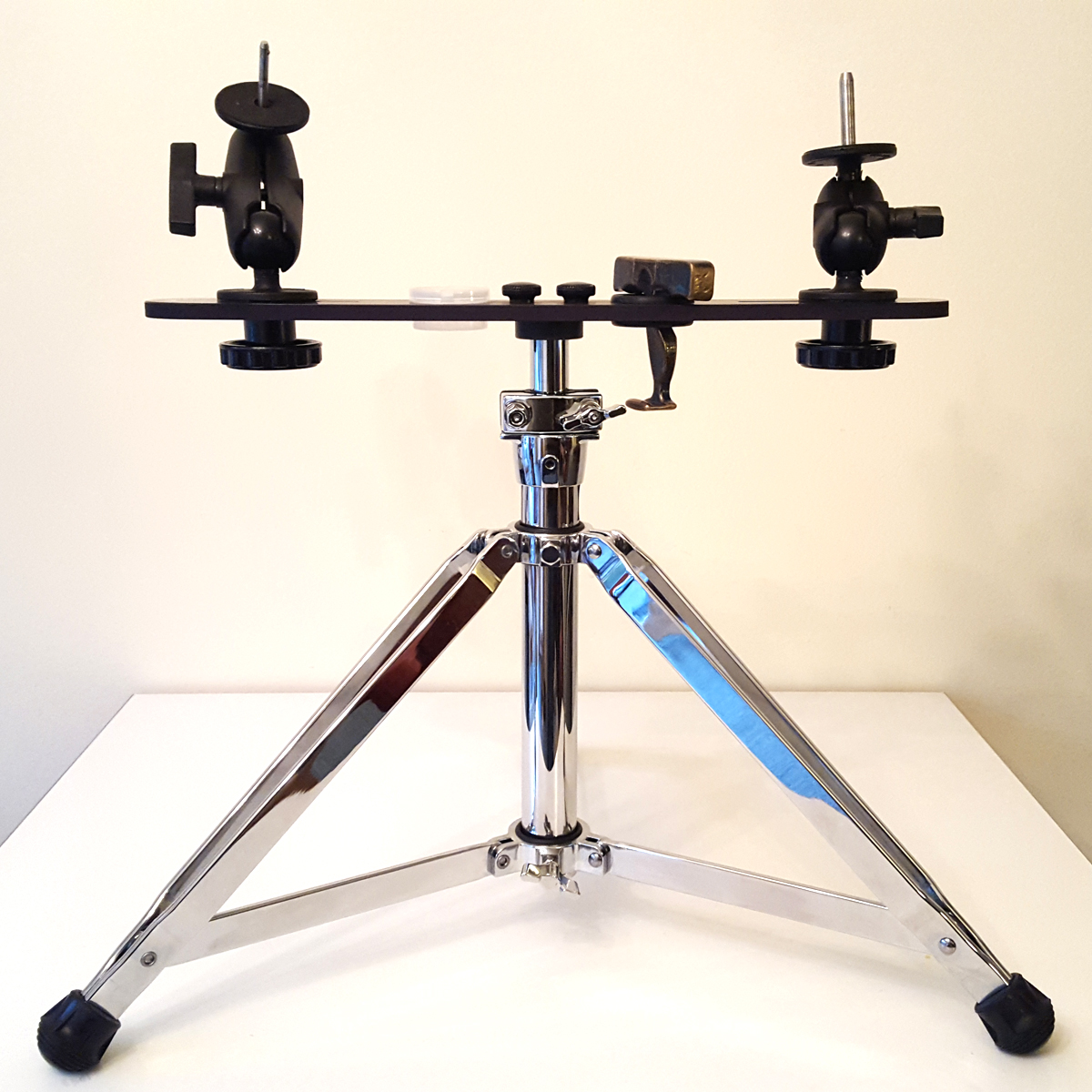 Tablamount Pin Style: $299
View Cart ›››