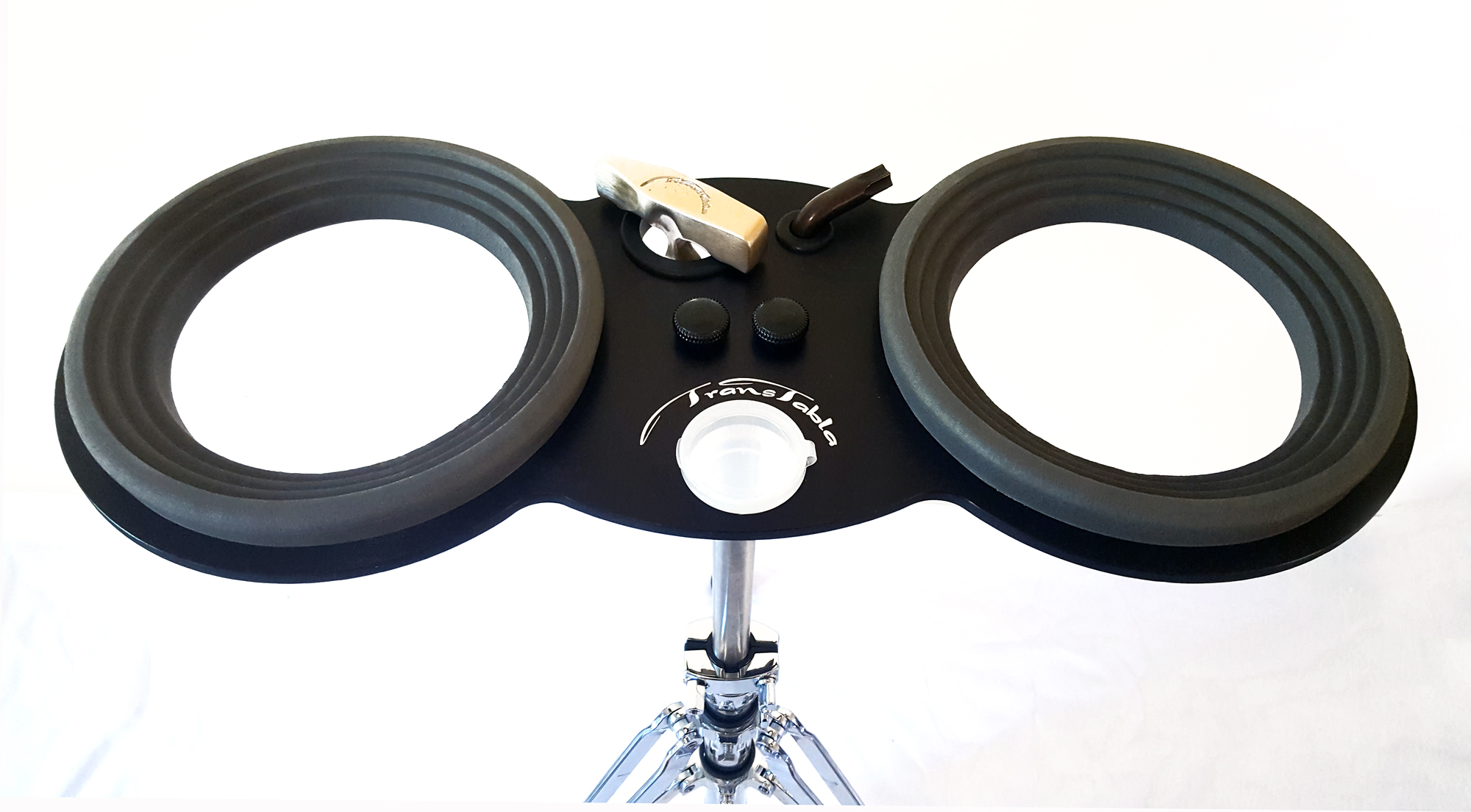 Introducing our 2nd generation universal Tabla mounting solution for players who wish to sit or stand to practice and perform.  Constructed of aircraft aluminum for a super lightweight yet rigid feel, they are also given an extremely durable black anodized coating that is the same hardness as gemstones.  Featuring rubber protected cutouts for your Tablatool, tuning wrench, and a built in powder container. The plate unscrews from the main post and will easily fit within checked luggage, or many existing Tabla cases. Backed by our site-wide guarantee, this Universal Tablamount is designed to last a lifetime.    We offer three of the most common post sizes, 1″,  7/8″, and 3/4″ diameter (sold separately) to fit into existing standard drum/snare stands. Please note, this product does not include a tripod base as many drummers have them already.
Tablamount Universal Plate: $349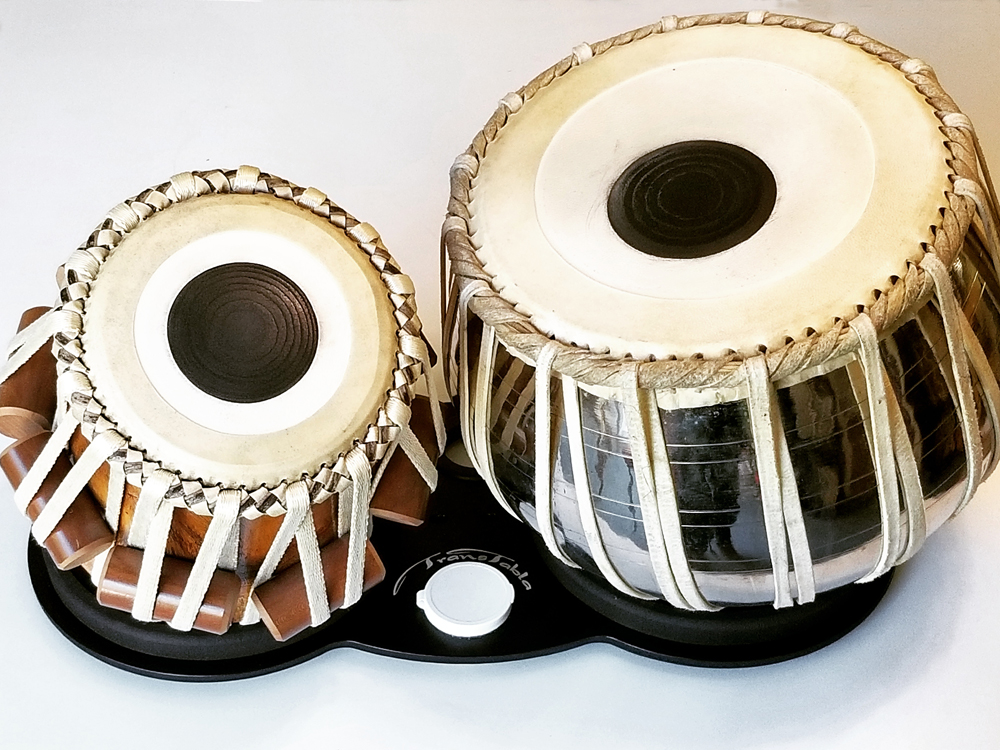 Features and Specifications:
Super high density foam rings for a secure hold on your Tabla
Rubber protected cutout for Tabla Hammer or Tablatool
Rubber protected cutout for Transtabla tuning wrench
Powder container included and installed (can be removed)
Overall dimensions: (Plate with rings only) 21″ x 9.5″ x 1.5″
Weight: Under 2lbs (Plate with rings only)
Material: Black Anodized Aircraft Aluminum with Lasermarking
Please measure your stand's existing mounting tube carefully before selecting!
1″ Diameter Mounting Tube: $59
7/8″ Diameter Mounting Tube: $59
3/4″ Diameter Mounting Tube: $59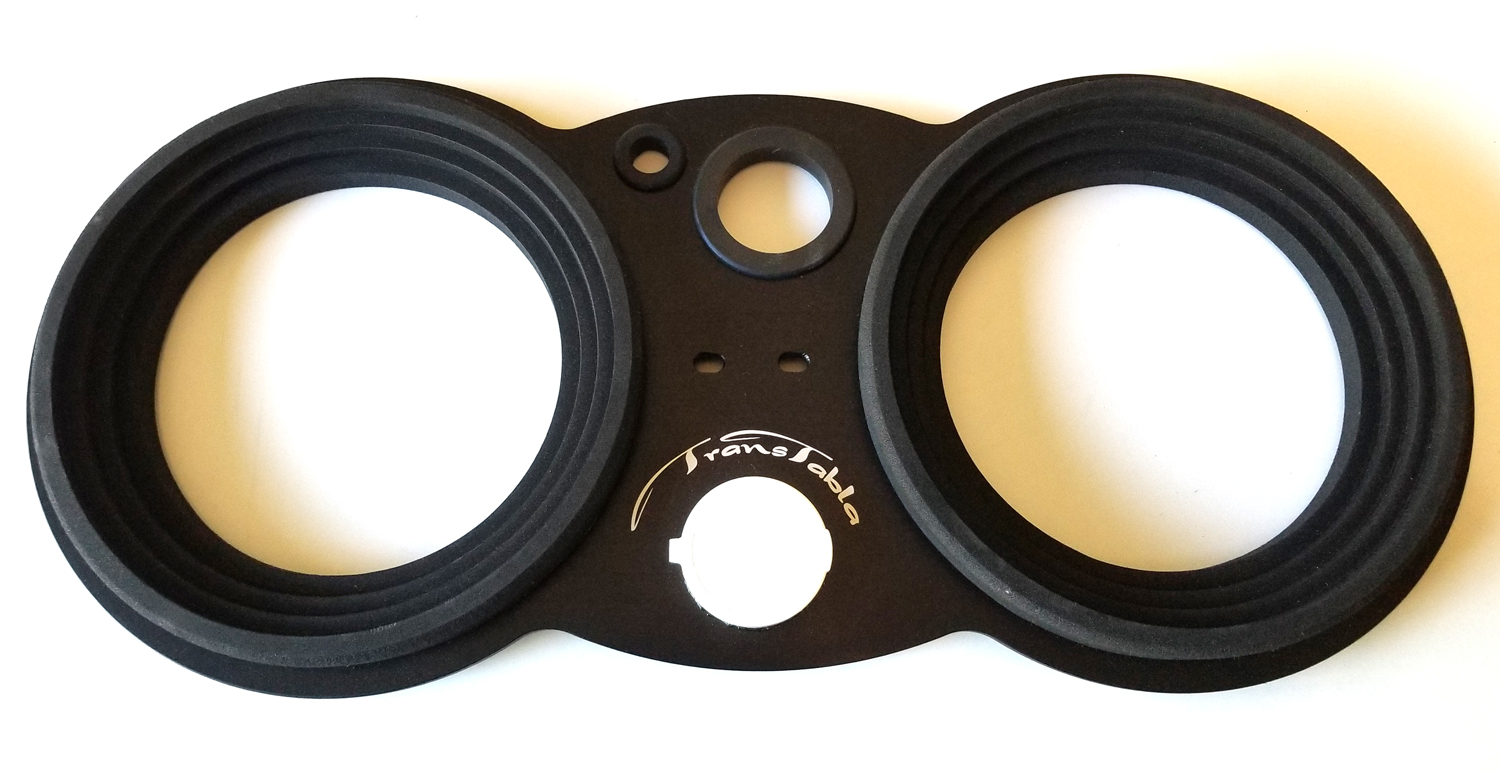 Lock in your TransTabla and converted Bayan securely with our pin mount style stand! Using twin ball-and-socket joints, this version gives you absolute freedom of playing angle and height from a seated or standing position. The entire assembly can be disassembled quickly for travel.  TransTablas are pin mount ready by design, and Bayans not purchased through us will require a pin mount modification of the base for $149 (see picture). The steel pin mount offers rigidity, yet allows for the drums to be freely rotated for tuning like you are used to with traditional rings. Both of our mounting options can use the same 1″ center column.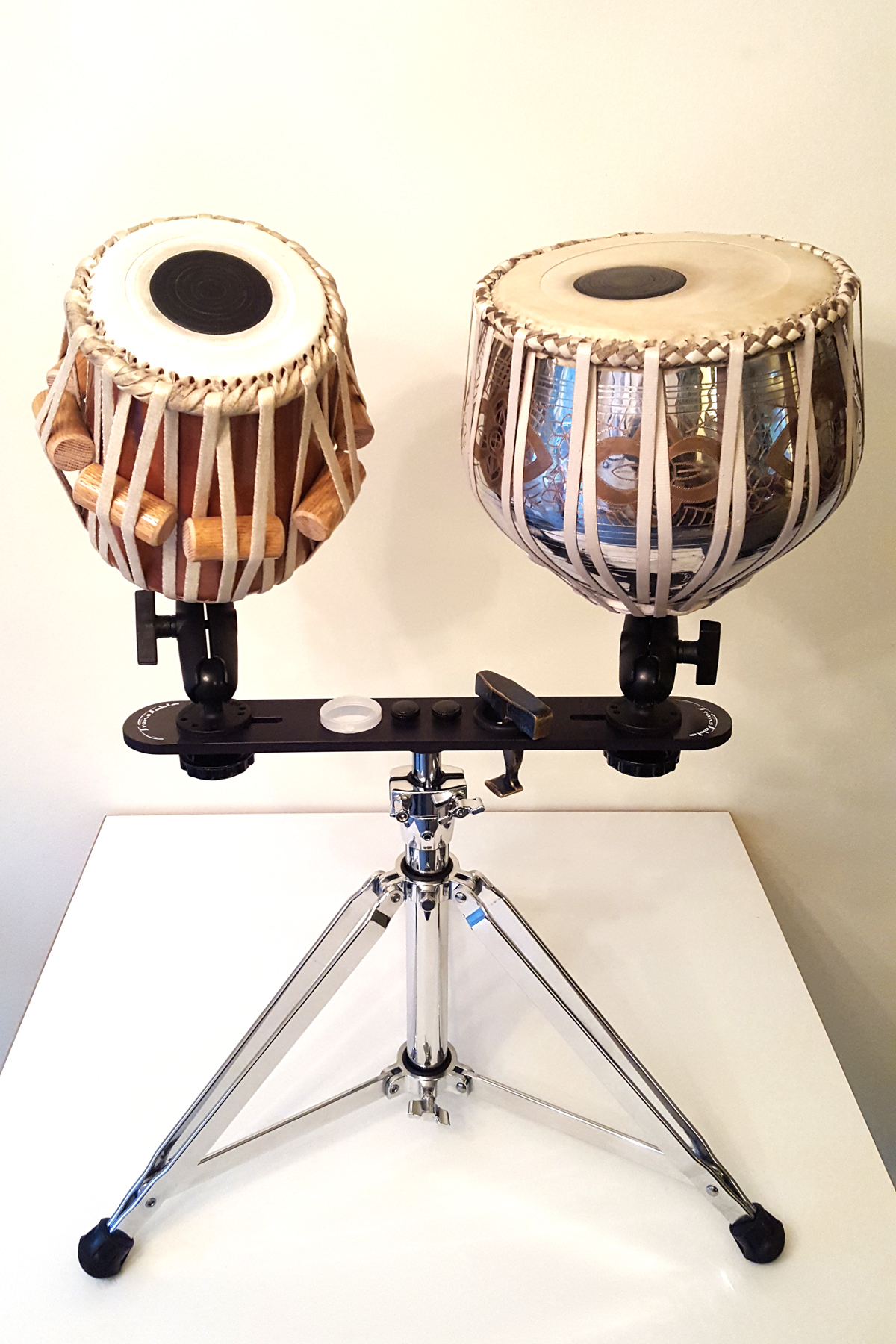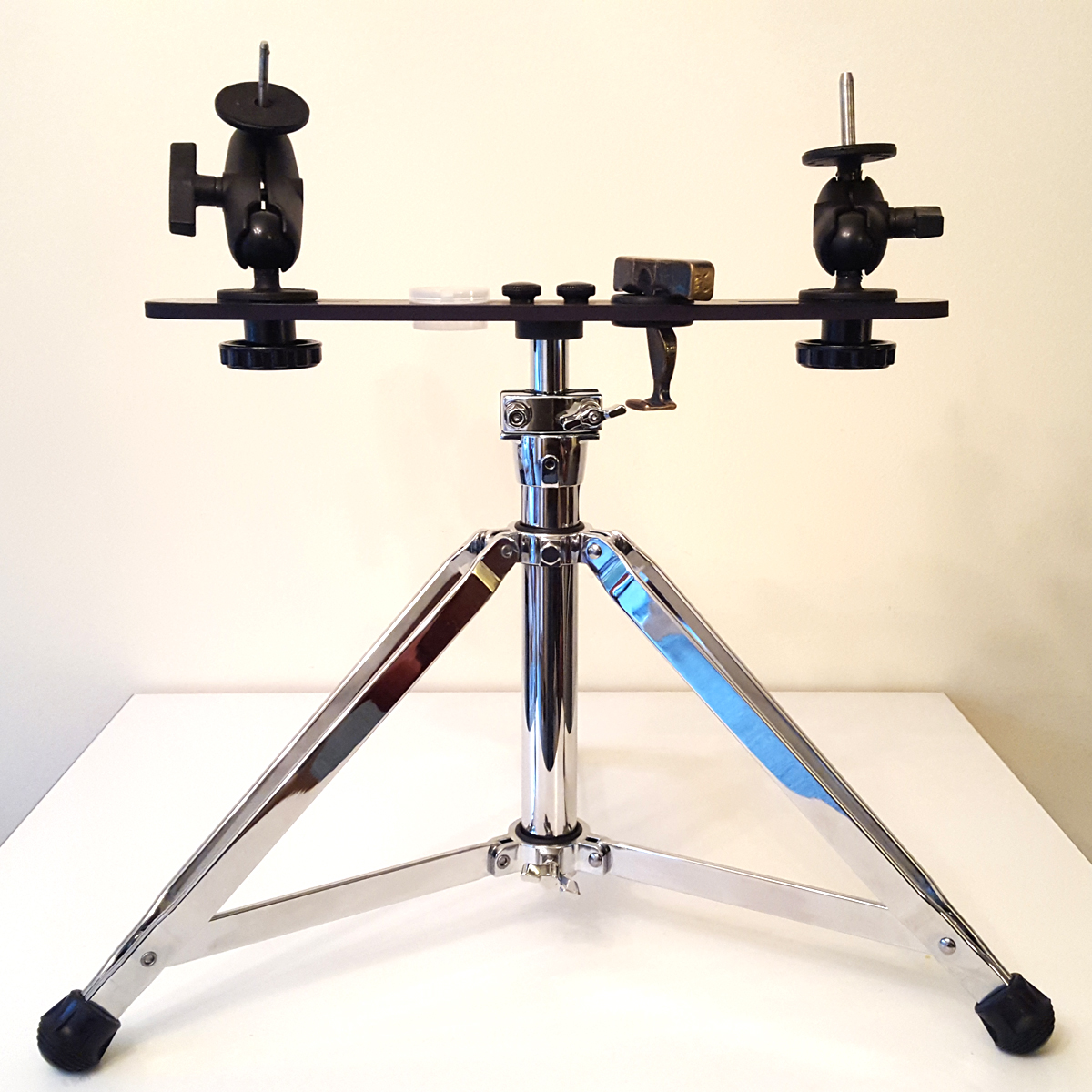 Tablamount Pin Style: $299
View Cart ›››
Review of  TransTabla Tablamount Universal Plate vs. Tablamount Pin Style, by Professor Terry Longshore, DMA
"I have been playing my TransTabla drums on both the new Tablamount Universal Plate and the Tablamount Pin Style, which I have used for several years. Both are made with impeccable craftsmanship and finish, and both work exceptionally well. The TransTabla products continue to impress me with every detail David Yovino has thought of in design and manufacturing.
The new Universal Plate is beautiful! The finish is incredible, and the included powder container and rubberized cutouts for Tablatool and tuning wrench are a welcome detail. Not an issue when sitting on the floor, but when sitting on a chair (or a cajón as I do), it is nice to not have to bend over to reach powder, wrench, or hammer from the floor. Also, the rubberized rings do a great job of holding the drums with no slippage or moving while playing. Weighing in at 2 lbs., 0.9 ounces (with powder in the container, no mounting tube), the Universal Plate weighs less than half of what the Pin Style Tablamount weighs. Although it is a slightly larger footprint, packing should be much easier due to its thin, flat design. The drums are positioned slightly farther apart than how I usually play, but it was not a huge issue and still felt comfortable to play. Also, I positioned the whole system at a slight, off-center, angle so the bayan did not feel too close to me in relation to the tabla. Again, not a big issue and the drums feel stable, secure, and easy to play. They sit securely at an angle in the rubberized mounts and do not move around. The ability to work with any tabla (no customization needed) makes the Universal Plate appealing for any tabla player.
The Pin Style Tablamount offers the most options as far as customizable positioning and angle, and is rock solid. I've toured and performed with this system extensively, and have found it to be absolutely dependable and solid. Weighing in at 4 lbs., 8.1 ounces (with powder, no mounting tube), it is quite hefty compared to the Universal Plate, and is trickier to pack due there being more parts and you will need to readjust your settings if you want it compact for traveling. Also, or course, it requires the TransTabla customized drums to be able to fit on the pins (which are amazing!). The included powder container and Tablatool slot are welcome on this model as well. It does not include a slot for the tuning wrench. I love this mount for its ability to put the drums absolutely wherever I want, and its rock steady stability.
I should mention also that my seated setup uses a very old (25+ years) Yamaha 900-series snare drum stand (1″ diameter) with a very small base, smaller than the stand pictured on the TransTabla site, and it is still very stable, which is testament to the rigidity and quality of the Tablamounts.
Either of these mounts will be an excellent choice. If looking for a mount that will work with almost any drums, the Tablamount Universal Plate is the obvious choice, and its lighter weight is also a great feature. The Tablamount Pin Style offers the most options as far as adjustability for TransTabla drums. I offer both my highest recommendation as far as quality and design. Thanks to David Yovino for his beautiful products!"
Terry Longshore, DMA
Professor of Music and Director of Percussion Studies
Oregon Center for the Arts at Southern Oregon University